Lets Consider that Fiverr pro and Fiverr are technically the same. There are many features that you will find in Fiverr and Fiverr Pro both. These features include searching for Freelancers, managing your order, and many other things are same.
But we have used Fiverr Pro extensively so we will tell you whether this thing is worth the investment for Freelancers or not. The best thing about Fiverr Pro is that it offers clients that they are working with Professional Freelancers. All of these Freelancers are highly skilled professionals.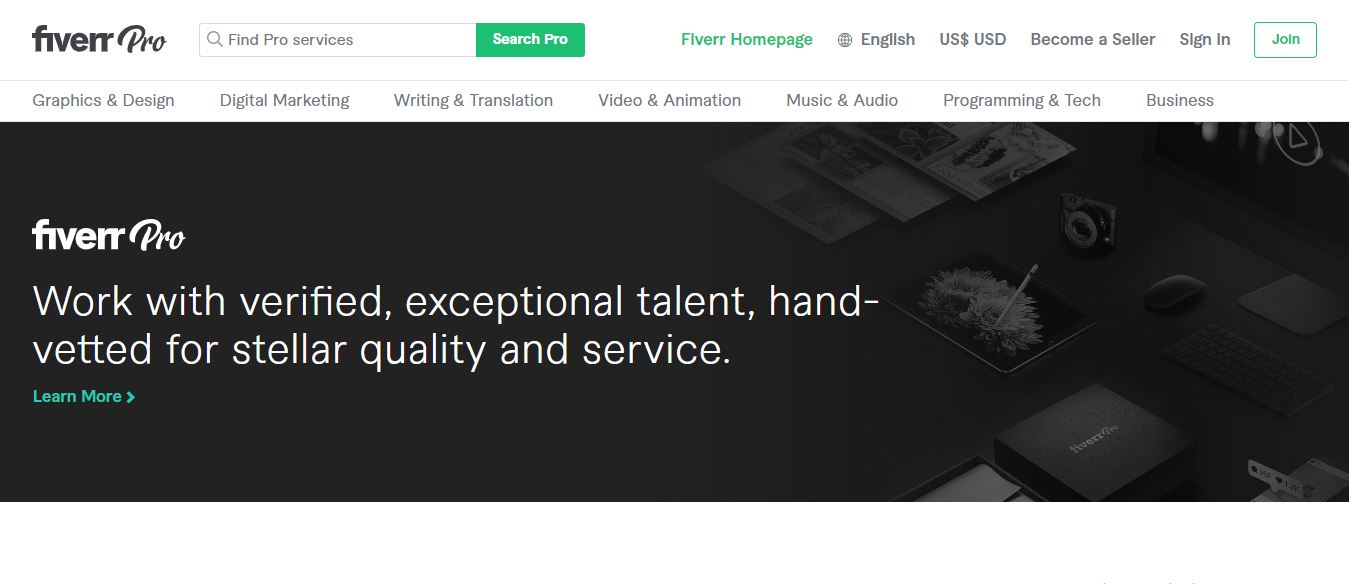 So we have come up with the list which will tell about the worth of Fiverr Pro for Freelancers in 2022 and the list is given below.
List of Fiverr Pro worth for Freelancers in 2022
Freelancers Verification
On both Fiverr and Fiverr Pro Freelancers have to verify their identity but the thing which worth it si that in Fiverr Pro sellers also have to prove their skills. The method is quite similar to interviews in many ways but the shocking thing is that Fiverr has claimed that only 1% of Freelancers earn Pro designation.
This thing tells us that the Pro designation is not at all an easy thing. You have to prove your skills in many different ways and satisfy fiver that you deserve this Pro designation.
If a Fiverr seller wants to upgrade to the Pro designation he has to follow a procedure and procedures that Sellers have to fill out a detailed application form and also have to submit their work samples and even a video overview of their work.
After you have done all of these steps then your information is reviewed manually by the Fiverr team and then they decide which Sellers are worth for Pro designation. And if any Seller gets this Pro designation then they are likely verified and those Freelancers are much worth in 2022.
Profiles of Fiverr Pro Freelancers
Their profile has some extra features as well which makes them different from any simple Fiverr seller. The Pro Sellers can even include their professional and social profile links, also a list of notable projects and clients. These all things make them different from others.
The best thing about Pro Sellers is that you will see the Fiverr Pro badge which will easily tell you he is a professionally skilled person with that skill.
Also, some Pro sellers have features to include in their Portfolios on their profiles and this is one of the new features. The best thing about Pro designation is that people will also willing to work with them and the reason is that they have been assigned as highly skilled professionals by none other than the Fiverr team and this thing makes them easy and relaxed about their work as well. And even this thing worth is for Freelancers in 2022 because they get many orders and even get high pay sometimes as well.
Pricing
The pricing on Pro gigs is not the same it varies and it totally depends on the category and also the level of service you need for your work. We have seen that Pro writers are as little as $70 for an Article, but when it comes to video production gigs then the prices of Freelancers claim to be thousands of dollars.
But one thing we want to clear is that if someone wants a $5 logo or any sort of $5 work then Pro Sellers are not their concern. The reason is that their budget is very much low as compared to the expertise of Pro Sellers that is why usually big projects are given to them which even worth it.
And we all know that pricing on the order is fixed but if clients' requirements changes which usually doesn't happen but if this condition occurred then in this condition the Sellers can revise their order and it also gets them the extra price of that order as well. And all of these things are worth it for Freelancers as well.
Easy to Browse Freelancers' Profile
This is also one of the main features of Fiverr Pro and it lets Clients browse Freelancers very easily because there are different categories of every Pro designator and clients can easily browse the seller that they want for their work.
Because of all these different categories and different gig browsing Freelancers are also very much easy to find their work and since they are having Fiverr Pro profile their profiles give a strong impression to the clients as well and by these all, it becomes very much easy for both Clients and Freelancers to work together easily. These features are also worth it in 2022 in Freelancing Carrer as well.
All of the things above make it worth it for Freelancers in 2022 and with the help of all these Pro features the High skilled professionals also get to test their skills and when they pass their test and are designated to Pro then it makes them shine in Fiverr platform because their profile is verified by Fiverr team itself and this thing also provides surety to the Clients that they are highly skilled and professionals.
And due to all these, it makes it easy for Freelancers and this Fiverr Pro is a total worth it for Freelancers in 2022.
This was all related to Fiverr Pro worth for Freelancers in 2022 and if you want to learn more about Freelancing or any technology-related blogs simple click here to explore them.